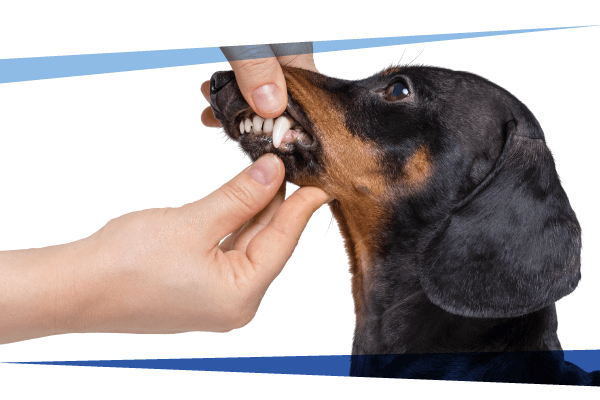 Did you know that February is National Pet Dental Health Month?
There's a reason the veterinary community devotes an entire month to pet dental health. Your pet's teeth are directly tied to their overall well-being, and even young pets can suffer the beginning stages of dental disease. By the tender age of three, 80 percent of dogs and 70 percent of cats show some evidence of tooth decay.
At advanced stages, dental disease can significantly impact a pet's quality of life, making eating difficult due to mouth pain. Plus, bacteria from the mouth can enter the bloodstream and cause heart, liver, and kidney complications. Keeping up with the cleanliness of your pet's teeth and their overall dental health can prevent years of discomfort, disease, and lost teeth.
There are things that you as a pet parent can do to help keep your pet's mouth clean, beginning with establishing a regular brushing routine. If you are able to acclimate your pet to the concept of teeth brushing, this is a great way to remove the tartar and bacteria that accumulate and slow down the progression of dental disease. There are pet toothbrushes and also finger brushes you can use in conjunction with a toothpaste made just for pets. We recommend CET enzymatic toothpaste, specially formulated to attack tartar in a safe and effective way, and CET dental chews between brushings. These chews come in four different sizes and use enzymes to remove plaque and freshen your pet's breath. If you're looking for another quick, easy and tasty way to slow dental disease, simple sprinkle our Perio Support powder on your pet's food at mealtime.
Sometimes brushing just isn't enough, and because we understand just how connected your pet's dental health is to their overall well-being, we offer 10% off all dental cleanings and anesthesia if the cleaning is scheduled within 30 days of our vet's recommendation. And this deal isn't just good during Dental Month, we're happy to pass along these significant savings all year round.
If it's been more than a year since your pet's pearly whites have gotten some attention, give us a call at (843) 856-9190 today. Don't let your pet's teeth become a serious health hazard!