Jimmy Cooper
LVT and Hospital Manager
Jimmy grew up and has lived his adult life in the tri-county area. From a young age, he has always had a passion for pets. One day an opportunity came about for a job at a small veterinary hospital. He started as an unlicensed assistant with no experience and worked his way up.
In 2000, while still serving as a vet assistant, he began taking part-time college classes and eventually got his LVT license. In 2018, he was awarded Licensed Veterinary Technician of the Year by the SCAV.
Jimmy was at his previous practice just shy of 25 years. He helped that practice grow from a small three-doctor, seven-staff practice to an enormous hospital with seven doctors and 40 staff members. Recently, he decided it was time to find a new place to call home, which led him here to Pleasant Pet Care.
Through the years, Jimmy's pets have included dogs, cats, reptiles, a ferret, a rabbit, birds, and fish. He now has a cat, two dogs, a snake, tortoises, and fish.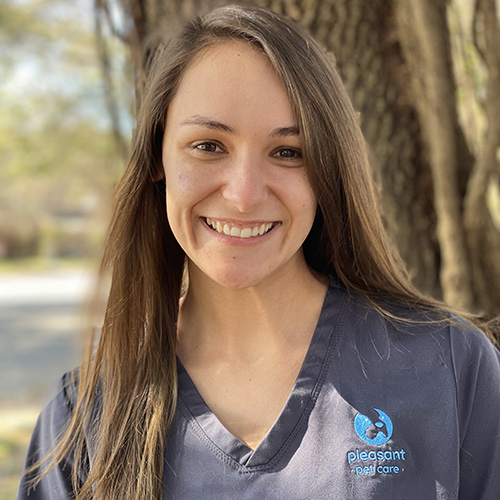 Taylor
Veterinary Assistant
Taylor loves working with animals and has had jobs with dog trainers and boarding facilities. Her passion is to take care of animals and improve the quality of their lives. She is currently pursuing an associate degree of Applied Science in Radiologic Technology at Trident Technical College.
She has two dogs, a yellow Labrador retriever named Addie Jo and a charcoal Labrador retriever named Whalen. Taylor enjoys spending time outdoors, particularly kayaking and camping. When it's cold, she appreciates a nice fire in the evening.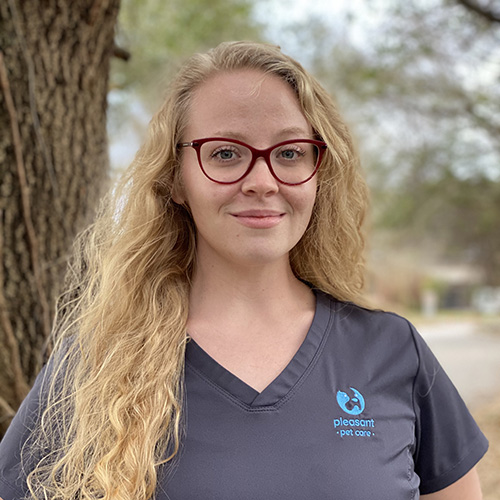 Katy
Client Service Coordinator
Katy is proud cat mom to Dr. Ronald McFluffbottom or "Doc," an eight-year-old Domestic Short Hair, and Professor Benedict Flufferton, otherwise known as "Benny," a three-year-old Maine Coon mix. Each has his own distinct personality. Doc hates closed doors and will yell until they're opened. Benny plays fetch like a dog and sleeps on his back.
When she's not at work, Katy enjoys watching TV and movies, reading, and hanging out with her husband and kitty companions, and going to the shooting range.
A fun fact about her: Katy collects scarves and figurines from all over the world!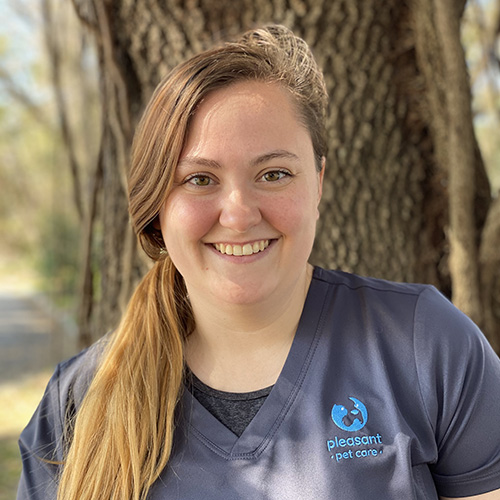 Jenna
Client Service Coordinator
Jenna really fell in love with the veterinary field while working for a doggy daycare facility in Virginia. She has a Bachelor's in Art from Winthrop University with a concentration in ceramics and a minor in community-based learning.
At home, she has a German Shepherd named Castiel who likes to pull her dirty clothes from the hamper to make a nest for himself in her closet.
When she's not at Pleasant Pet Care, Jenna likes to bake, create new recipes, work out, play "Animal Crossing," and listen to Taylor Swift.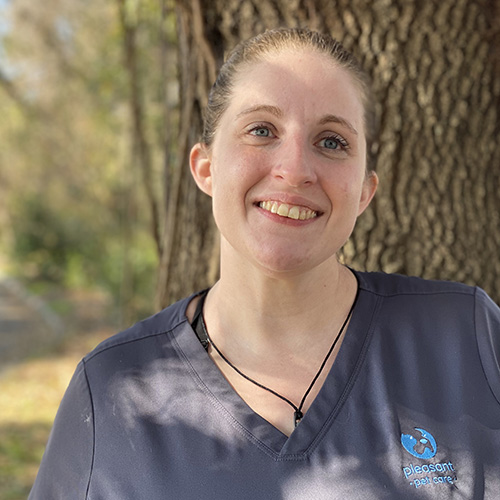 Katie