Jimmy Cooper
LVT and Hospital Manager
Jimmy grew up and has lived his adult life in the tri-county area. From a young age, he has always had a passion for pets. One day an opportunity came about for a job at a small veterinary hospital. He started as an unlicensed assistant with no experience and worked his way up.
In 2000, while still serving as a vet assistant, he began taking part-time college classes and eventually got his LVT license. In 2018, he was awarded Licensed Veterinary Technician of the Year by the SCAV.
Jimmy was at his previous practice just shy of 25 years. He helped that practice grow from a small three-doctor, seven-staff practice to an enormous hospital with seven doctors and 40 staff members. Recently, he decided it was time to find a new place to call home, which led him here to Pleasant Pet Care.
Through the years, Jimmy's pets have included dogs, cats, reptiles, a ferret, a rabbit, birds, and fish. He now has a cat, two dogs, a snake, tortoises, and fish.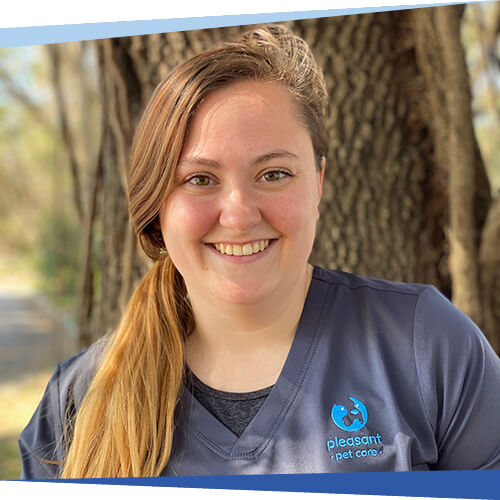 Jenna
Client Service Coordinator
Jenna really fell in love with the veterinary field while working for a doggy daycare facility in Virginia. She has a Bachelor's in Art from Winthrop University with a concentration in ceramics and a minor in community-based learning.
At home, she has a German Shepherd named Castiel who likes to pull her dirty clothes from the hamper to make a nest for himself in her closet.
When she's not at Pleasant Pet Care, Jenna likes to bake, create new recipes, work out, play "Animal Crossing," and listen to Taylor Swift.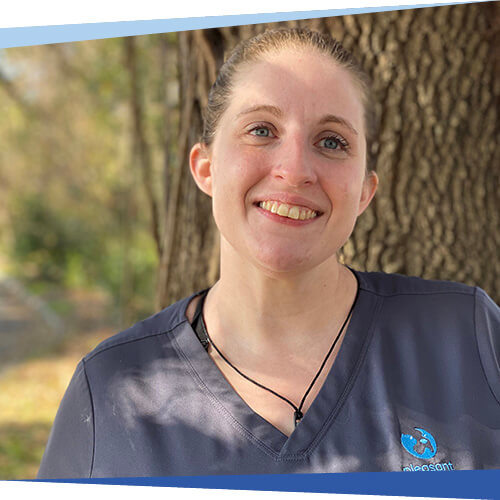 Katie
Katie is originally from upstate New York. She loves old dogs, all cats, and any type of herding breed- particularly German Shepherds. She currently has 3 cats (Layla, Lilly, and Lena) and a German Shepherd/Melanios mix named Loki. When she is not working, she enjoys horseback riding and reading. Grayson
Veterinary Assistant
Grayson has always loved animals and enjoys riding & competing horses, spending time with friends, and meeting new people. She enjoys volunteering with Rein and Shine as well as Circle H. Her favorite part about working with animals is seeing all the different breeds of dogs and cats while always learning something new each day. Samantha
Certified Veterinary Assistant
After spending years as an assistant for AKC handling, Samantha decided to continue a career working with animals in the veterinary field. She loves that she never stops learning and has the opportunity to meet new families and their pets!
In her free time, she loves reading, boating on the lake, or enjoying a relaxing nap. She enjoys spending time with her husband, two-year-old son, friends, and family, as well as her 2 dogs (Skye and Whisper) and three cats. Kimber
Veterinary Technician
Kimber chose to work in the veterinary field because of her unconditional love for all animals, which is why she also aspires to one way help with wildlife conservation.
Her favorite part about being a veterinary technician, aside from seeing french bulldog puppies, is being able to help people's pets and educate them on how to provide the best care possible.
In her free time, she enjoys true crime podcasts, reading, and meditating.