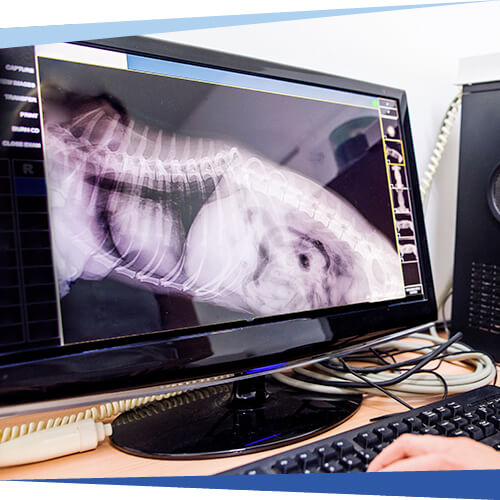 At Pleasant Pet Care, we are serious about early detection of disease to ensure the best chance of a successful outcome for your pet. When your pet has a medical problem, our staff will determine how urgently it needs to be addressed. Patients in life-threatening conditions are admitted immediately; if patients are in significant discomfort but not in immediate danger, we'll make every possible effort to see them on a same-day basis. As always, your pet's health and comfort are our highest priority.
Our diagnostic services include:
ECG and blood pressure monitoring
Helps assess cardiac rhythm and function
Helps detect hypertension, and to evaluate and stabilize critically ill pets
Provides a baseline reading during comprehensive physical exams for older or sick pets
Used to assess pets' condition while under anesthesia
In-House Laboratory
Complete blood analysis by our state-of-the-art blood analyzer.
Fecal analysis for parasites by flotation
Urinalysis, including analysis for protein.
Screening tests for canine parvovirus, and feline leukemia and FIV viruses.
Cytology examination of ear, skin, urine and blood specimen
Fungal cultures for possible ringworm
Radiology (X-rays)
Useful to assess bone and joint abnormalities and injuries
Detects the presence of foreign material inside the body
Used to screen for abnormalities in the heart, lungs, and urinary and digestive organs
Used to screen for cancer
Oftentimes does not require any form of sedation
Cardiology
Although found more often in older pets, heart conditions can affect pets at any age. Heart disease is usually a life-threatening health issue, but early diagnosis and appropriate therapy can extend your pet's life. If caught soon enough, some forms of heart disease can even be cured.
The veterinarians at Pleasant Pet Care have the expertise to diagnose and treat heart conditions such as hypertension, heart valvular disorders, congestive heart failure and other heart conditions your pet may develop.
While some pets show symptoms when they have a cardiac issue, others may not show any visible signs until discovered during a routine wellness exam. It's important that you be aware of the symptoms of heart disease, especially if your pet is a senior, a breed that is predisposed to cardiac issues, or has a congenital problem.
Signs include:
Rapid breathing
Coughing
Loss of appetite
Lethargy/tires easily
Weakness/trouble exercising
Many heart problems can be detected through a physical exam, though additional tests will be required to obtain a definitive diagnosis and cause.