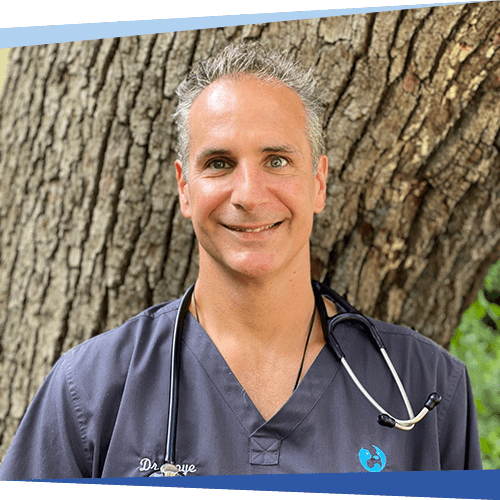 Dr. Brian Foye grew up in Lancaster, Texas (just south of Dallas). After graduating with an advertising degree, he spent several years as a writer in a few advertising agencies in Dallas and at Home and Garden Television (HGTV). During his time at HGTV, he had a "calling" to become a veterinarian. After another 7 years of college, he received his DVM degree in 2009 from Colorado State University, which is annually ranked as one of the top three veterinary schools in the nation.
Dr. Foye has run his own animal clinic in Longview Texas since 2011 and is now excited to join his best friend and classmate in a new adventure here in Mount Pleasant, SC.
His special interests in animal services are ophthalmology, orthopedics and dermatology.
When he's not at the animal clinic, Dr. Foye enjoys spending time with his wife Jill and their two children, as well as playing and watching football (especially his Texas Longhorns and Dallas Cowboys). He also enjoys scuba diving, fishing/camping, and volunteering at New Covenant Church.
At home, he has a chocolate lab, Rocky; a black lab, RJ; a husky, Kota; a miniature schnauzer, Dace and two cats – Gracie and Motley.